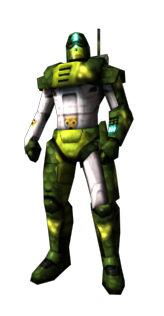 Combat Officer battle suit. Equipped with cloaking and improved targeting sensors. Cloaking projectors in this suit are inferior to those in the Sniper armor.
Requires level 10 and 350 credits. Base stats are: +CLO, +TS -PWR(Note: It also has a + jmp stat)
Improved targeting sensors increase the damage of your equipped weapon.
Sentry armor is a versatile armor. It has enhanced jump(+64), Targeting(+18), and Cloaking(+20), allowing it to adapt to every type of maps and armors. Jump is important, but for those who have +jump or ++jump, you can see that it is very effective when jumping around that makes it almost impossible to aim well, so the midrange jump that the sentry armor has is an additional use.
Also, the sentry armor has the 3rd highest targeting (behind Infiltrator Armor and Sniper Armor) and has cloaking, which can help conceal yourself in dark corners (such as in runoff). The Sentry armor also has the 4th highest shielding when fully upgraded. Like the Sniper Armor, the advantage of cloaking is balanced out by the decrease in Powerup Stat - the duration for which you can use powerups in the game is 3/4 of the usage time given to all other non-cloaked armors. Sentry users tend to pick the Vaporizer because of the versatility it offers when combined with the versatility of the Sentry.
Armor Stats
Edit
Base Stats:
Edit
Shielding: +2
Targeting: +5
Speed: +11
Jump: +13
Aquatics: +3
Cloaking: +6 (30%)
PowerUp: +1
Fully Upgraded Stats:
Edit
Shielding: +32
Targeting: +18
Speed: +31
Jump: +64
Aquatics: +32
Cloaking: +20 (70%)
PowerUp: +12
Credits Required For Upgrades:
Edit
Shielding: 50, 100, 130, 195, 280, 345, 390, 415, 500
Targeting: 50, 100, 130, 195, 280, 345, 390, 415, 500
Speed: 50, 100, 130, 195, 280, 345, 390, 415, 500
Jump: 50, 100, 130, 195, 280, 345, 390, 415, 500
Aquatics: 50, 100, 130, 195, 280, 345, 390, 415, 500
Cloaking: 50, 100, 130, 195, 280, 345, 390, 415, 500
PowerUp: 50, 100, 130, 195, 280, 345, 390, 415, 500
Total Cost: 16,835 Credits