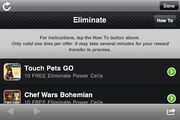 ngmoco often runs special offers for free power cells and credits. These usually require the user to download an application to their device, and after running the app, power cells or credits are awarded.
They are often advertised in a banner on the main menu, a popup when opening the game, and in the "special offers" menu on the power cells page.
Titles are usually other games made by ngmoco or in the Plus+ network, such as Touch Pets Dogs and Epic Pet Wars.
List of current special offers
Edit
These are all of the special offers currently available in Eliminate.
External links
Edit